Internationally trained lawyers find their way back into the legal profession
Francis Chiejine, internationally trained lawyer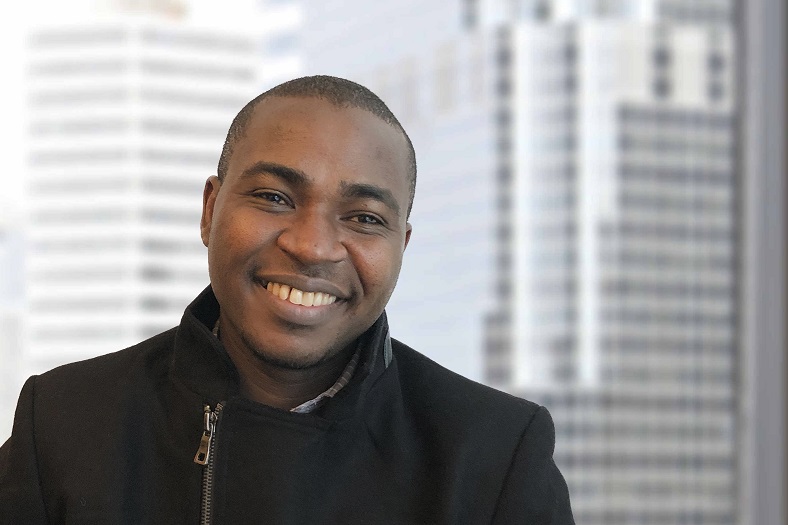 Law Day was introduced by the Canadian Bar Association and is held across Canada every April.
April 17 commemorates the signing of Canada's Charter of Rights and Freedoms in 1982, and Law Day was first celebrated in 1983. Over the years Law Day has evolved into a country-wide, multi-day event and has become an opportunity for the community to participate in specific activities and learn about the law profession. Each year, hundreds of lawyer volunteers across the country facilitate courthouse tours, conduct mock trials and lectures, hold poster competitions, and more. Due to the pandemic, Alberta did not celebrate Law Day as per usual, but it is anticipated that Law Day will be back in 2022.
In the spirit of Law Day, we decided to do our bit to inform the public about the legal profession. In this article you will learn about the personal experiences of two internationally trained lawyers (ITL's) who recently immigrated to Canada and how they found their way back into the legal profession. In addition, we will share more about how we at Directions for Immigrants guide and support ITL's who have settled in Alberta.

Making an Impact – Debbie Wilcox
Asked what Debbie enjoys most about her career as a lawyer, she responded: "I like the fact that I do work that actually has an impact on people's lives. It's a huge responsibility … It's really fulfilling to know that in the lives of [others], I actually can make a difference."
Debbie immigrated to Canada in 2018 after working on in-house corporate commercial oil and gas litigation for 13 years. She has always focused on adding value, and her plans for Canada were no different. Intent on becoming a lawyer in Canada, once she landed, she realized that she had no idea how she was going to go about it. Since no help was available to them, Debbie and a couple of friends got together and started an informal study group where they helped one another prepare for their licensing exams. During this time, they realized that more and more newcomers were landing and faced the same challenge. The group of friends decided to keep their informal study group open to other ITL's and offered licensing advice, study strategies, and taught the courses on various online platforms. Not long afterwards, Debbie found herself collaborating with Directions for Immigrants, creating study group outlines, developing materials, and offering exam preparation study groups to other ILT's who are also propelled by the desire to become licensed to practice law in Canada.
When asked why she is involved in this process, Debbie responded: "There are two reasons. One, I love to teach; and two, I take any opportunity to give back - if I can help at least one person, come into the country and not be as lost as I was." Debbie sees herself journeying together with study group participants. She adds that the journey doesn't end when participants pass their exams or are called to the Bar. A part of her process is creating a space for ITL newcomers to meet, network, and create meaningful relationships and establish a good foundation within which to excel in their legal careers in Canada.

Law is a Platform – Francis Chiejine
When Francis decided to immigrate to Canada, he had no clear idea of the career he would pursue, but he was committed to keeping an open mind. He only knew that he wanted to immigrate to a country that would allow him to become the best version of himself. He wanted to explore his new environment and evaluate the opportunities before making a career decision.
Francis and his family landed in Canada in 2019. After two months of unemployment, he found a part-time transition job at Walmart and soon realized that there was potential for him to become a lawyer in Canada. Francis understood the licensing process and found it daunting. Francis sat and passed four National Committee on Accreditation (NCA) exams in 2020 and he is currently in the process of searching for an articling opportunity. For Francis, the law is "a platform, a foundation for doing whatever you want to do."
When asked what advice he has for other immigrant professionals, Francis replied: "Keep an open mind, and stay positive. And if you're about to start the journey [of becoming a licensed professional], get as much information as you can because information is key. Without Directions for Immigrants, I don't know how the exams would have gone. And if you have the opportunity to register with Directions for Immigrants for your studies or for your preparations, I think that would be a fantastic idea. It has really, really been fantastic for me going through the journey with Directions for Immigrants."
Thank you to Debbie and Francis for sharing their journey with us, and to Grisel Flores, our Community Liaison Officer, for conducting the interviews.
Aware of a growing need to support internationally trained lawyers while they prepare for their licensing exams in Alberta, Directions for Immigrants launched the no cost NCA exam preparation study groups just over a year ago. Partnering with the Calgary Regional Immigrant Employment Council (CRIEC) which offers mentorship opportunities for ITL's, Directions was introduced to Debbie Wilcox who was already running her own study groups on electronic platforms.
14 months, 15 study groups, and a total of 204 ITLs who have successfully completed study groups later, Directions for Immigrants has helped internationally trained lawyers achieve a 93% pass rate. This would not be possible without the collaboration between Joan, our career coach and our fantastic facilitators Debbie, Seun, Lawretta, and Kenny. Each of our facilitators are ITLs, have sat and passed the NCA exams, and have been called to one of the Canadian Bar Associations, or are on the cusp of being called to the Bar.
Directions for Immigrants currently runs no cost exam preparation study groups for the five core common law subjects that most ITLs need to pass to become a lawyer in Canada, multiple times per year. To our knowledge, these study groups are the only of its kind in Canada as they are offered at no cost to participants and funded by the Government of Alberta and Government of Canada.

If you are interested in joining the study groups or need information regarding the process to become a licensed lawyer in Alberta, please make an appointment with a career coach by calling (403) 770-5155. Alternatively, you can visit Directions for Immigrants for additional information.
For more information about the requirements of becoming a lawyer in Alberta , please visit National Committee on Accreditation and the Law Society of Alberta.