"I saw my dream of working again as an Emergency Medicine physician take form"
Rosine, International Medical Graduate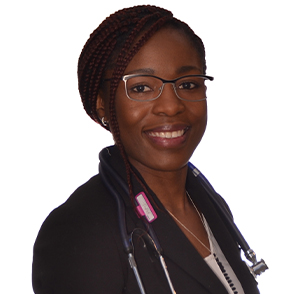 Prior to immigrating to Canada, Rosine remembers being told that it was impossible for a physician from her country of origin to practice medicine in Canada. Rosine landed in Quebec in August 2018, and once there, she discovered that "not only was it difficult to go back to my profession, but I had no one to guide me through the process." Fortunately via word of mouth, she came to know about Directions for Immigrants and the way in which we support international medical graduates.
After much thought, Rosine made the decision to move to Calgary where she "underwent a rigorous selection process and I was admitted to the (Directions for Immigrants') study group, and I saw my dream of working again as an Emergency Medicine physician take form." In addition to attending the study groups and preparing for the exams, she attended numerous workshops designed to develop the skills to be a successful physician in Canada; and she regularly met with her career coach to trouble-shoot, do interview preparation, and explore additional options and resources. Rosine shared the aspects of the study group she found most useful were: "rigorous preparation sessions, up to date information coupled with frequent assessments and constructive, personalized feedback, a good dose of encouragement and motivation" from her career coach when she felt like giving up. After passing the MCCQE1 exam on the first attempt, Rosine wrote and passed the NAC OSCE exam 3 months later.
"Today, a dream I almost gave up on is coming true as I was successfully matched to start my residency in March 2020, after only one year at Directions for Immigrants. I am so grateful to my career coach and her amazing team for always teaching us with so much passion and patience, and for the priceless feedback which prepared us not only for residency, but also for practice as licensed physicians. My career coach and her team at Directions for Immigrants not only saved my dream, but made me a better physician."