"Directions for Immigrants helped me through their well-organized study groups."
Ankita, pharmacist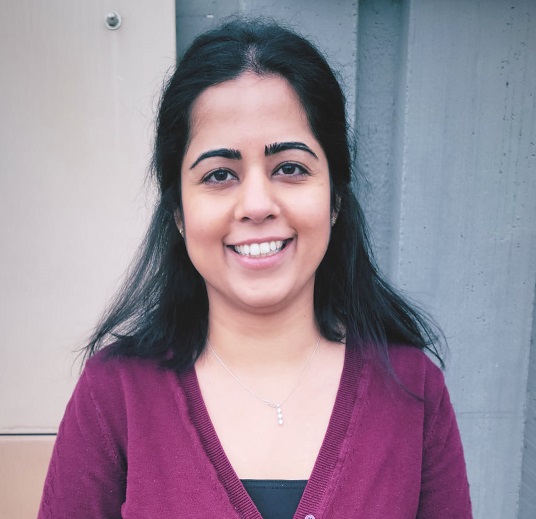 Meet Ankita, pharmacist and pharmacy owner who immigrated from India in 2014 with her family and had dreams of becoming a licensed pharmacist in Canada. Ankita accessed our career services and study groups to move forward with her career goals. She met with Rachel, her career coach and EE, MCQ and OSCE study groups coordinator. During their one-on-one sessions, Rachel coached Ankita on how to navigate the licensing process in Canada as well as how to be an engaging and interactive facilitator. We had a chat with Ankita who is now a licensed pharmacist, pharmacy owner and a study group facilitator with us at Directions for Immigrants. Here's what she had to say.

Where do you come from and when did you immigrate to Canada?
I was born in Mumbai, India. I immigrated to Canada with my family in 2014.

What education and work experience did you bring from outside of Canada?
I graduated in 2014 with a Bachelor of Science in Pharmacy. During my tenure as a pharmacy student, I completed an internship at a pharmaceutical company as well as gaining some additional experience in the retail customer service sector.

What was your experience in searching for a job in Canada?

The job search in Canada was difficult at first. I had to start with a simple job which was unrelated to my profession, while at the same time closely watching for opportunities within my field. My very first job was in a retail clothing outlet, followed closely by a position as an associate in the pharmacy department at Walmart. And from there I was able to network and get introduced to pharmacists and other pharmacy staff, which would end up being immensely beneficial in the long run. While preparing for the Pharmacy Examining Board of Canada (PEBC) exams I managed to find a position as a pharmacy assistant. I am grateful for this experience as I gained tremendous familiarity with customer service best practices as well as some great networking opportunities.

How was the accreditation process as an internationally educated pharmacist for you?

The process was quite straightforward on the PEBC website. While having just arrived in Canada I already had some idea of what the first steps were going to be, but the exam preparation was one of the things I was most worried about and needed guidance for. The PEBC exams include multiple choice questions and I felt I didn't have much practice with this type of examination while I was completing my bachelor's degree.
I was introduced to Directions for Immigrants by a pharmacist at Walmart. I promptly contacted Directions and asked for help. I was lucky enough to get a seat at the study groups as soon as possible and didn't have to wait for the next intake. Directions helped me with the references that I needed for the PEBC exams and reviewing the topics through their well-organized study groups.

How did you feel through the accreditation process?

One of the challenges was travelling to Edmonton to write the exams, but my family was very supportive, emotionally and financially.
Another challenge was working full-time while preparing to write the exams. I feel that a good sense of time management was very important throughout the whole process. I always kept going though despite any difficulties, because I knew I needed to pass these exams to reach my career goals.
As an immigrant, I feel like finances can be more of an issue, and as I didn't want to fully depend on my family, I continued to work full time while preparing for the exams.
It was a challenging process throughout, but a very rewarding one indeed.

What help did you access?

Directions for Immigrants was my biggest help throughout the process. Rachel was my first contact at Directions; and I am very grateful I met her. She and the team at Directions for Immigrants have helped me enormously, not only with the prep for the exams but with gaining essential insight into the social culture, work culture and interpersonal relationships essential to a successful career path. Because of Directions I was able to make a lot of friends that were going through the same thing themselves and we were able to help each other prepare for the exams and provide the much-needed motivation required to completing the process.

How did Directions for Immigrants help you?

Through Directions I was able to understand the references I needed to pass the exams. The study groups with their many practice exams were an essential part of my good performance on the actual real exam. Additionally, through the study groups, I was able to better understand the topics where I felt my knowledge and background were lacking and the pharmacists that facilitate these groups helped me with many insider tips and tricks for a successful exam session.

Where are you in your career journey in Canada today?

After becoming licensed in Canada, I started as a relief pharmacist, even travelling out of town for relief work. Shortly after, I moved to a full-time position as a staff pharmacist which then led to a Licensee and Pharmacy Manager position with the same company. More recently, just last year, I have become the proud co-owner of a brand-new pharmacy right in the heart of Calgary on 17th Avenue. This endeavor has presented a whole new set of challenges and rewards in this exciting stage of my career journey.

What would you say to other internationally educated pharmacists who are navigating their own journey?

Even though the journey seems difficult, long and daunting the rewards at the destination more than make up for all the efforts invested. The Pharmacy profession is ever growing in Alberta and I am very proud to be a pharmacist in this province.
Keep your eyes on the prize. My goal is to help people with their healthcare needs, and every day I feel accomplished that I can use my care and the skills of my profession for this purpose.
Get the help you need to succeed. Network and study with the people that are going through the same process. This way you can help each other to succeed in your career path. And last but not least, work ethically and the rewards will surely follow.
If you are an internationally educated pharmacist planning to become licensed or needing help with your job search, contact Directions for Immigrants at 403-770-5155.

Pharmacy exam preparation study groups for internationally educated pharmacists
Pharmacy Examining Board of Canada Evaluating Exam (EE)
Pharmacy Examining Board of Canada Qualifying Exam Part I (MCQ)
Pharmacy Examining Board of Canada Qualifying Exam Part II (OSCE)